Attention is one of the most valuable things a consumer or social media user can give your business. It's also the prerequisite for getting followers, generating awareness, and making a sale.
Using our agency's house view, developed through many years of experience, we have collated some advice that has resonated with many of our clients and helped them achieve their advertising campaign goals.
This article will cover best practices to make an attention-grabbing, head-turning ad creative for Facebook. It will also explain why we have chosen the suggested points. We hope you find this useful.
Best practices for a Facebook ad creative
1. Know your market/audience.
Create a customer persona.
Research your market and investigate your competitors.
Review your current data and analytics.
Monitor audience feedback, comments, and engagements.
Experiment with content and updates to your products and services.
2. Study your ads.
Look where your ads perform best (which social media platforms).
Place them in the right stage of your funnel.
Always test your ad creatives (text, designs, and formats) – use A/B or Lift Testing.
Add a click-worthy CTA button.
Always optimise and test response levels for mobile devices.
3. Be authentic.
Don't use stock photos.
Use different ad creatives but don't forget to use the correct size and format.
Make your ads interactive – for example, turn it into a game or use augmented reality.
Show people in your ads.
Use appealing copywriting, and don't forget to incorporate eye-catching headlines.
Tell your audience something they don't know about your brand.
4. Reasons to be consistent.
It helps build brand loyalty.
It differentiates your brand.
You can reach different people across different platforms.
It strengthens your brand awareness.
It provides you with more accurate data analytics.
Example of good Facebook ad creatives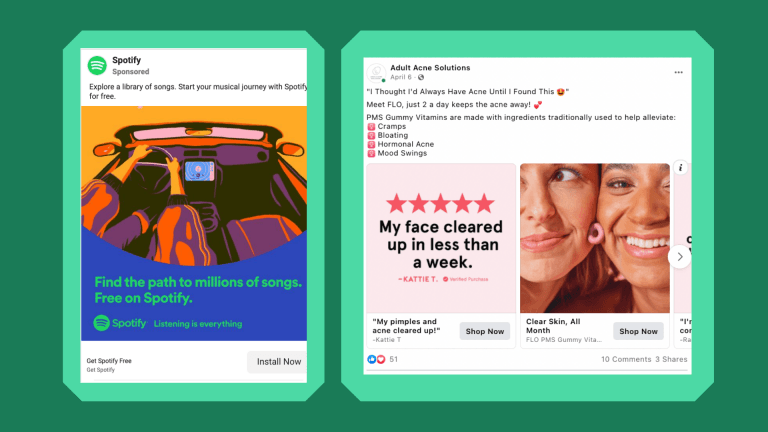 For creatives we suggest:
Be imaginative with your ad creative/imagery – use storytelling.
Consider the style of your ads – clean and minimal, or colourful and vibrant?
Consider types of ads – 3D illustrations or real photos?
Bold typography.
Emphasizing relevant numbers or letters.
Place your product on a background with interesting colours.
For ad copy we suggest:
Keep it short and straightforward.
Highlight the top features and benefits of the product.
Focus on how users or customers will feel after using your product.
Use active verbs in your copy.
Include a short, memorable hashtag to encourage social promotion of seasonal events/sales.
Ask questions in your ad copy using the voice of the customer.
Example of bad Facebook ad creatives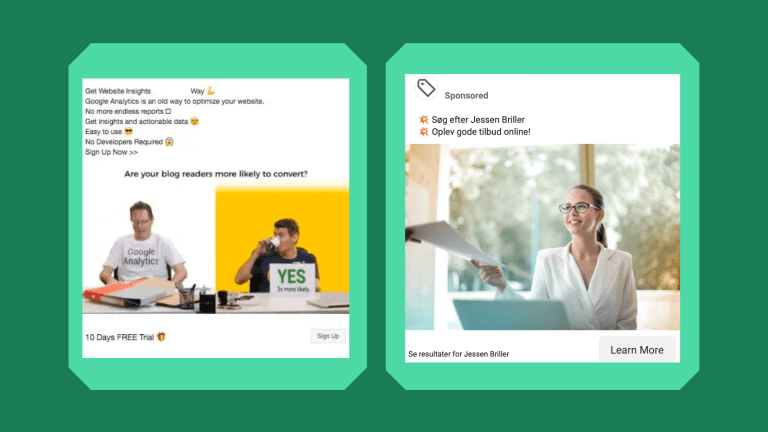 For creatives and ad copy we do not suggest using:
Stock photos.
Incorrect ad formats.
Many value propositions in your text.
Misleading ad copy text.
Creatives which do not relate to the hook or offer.
Misleading content (eg by featuring an unrelated celebrity).
Facebook ad creative checklist
To make sure that your next Facebook Ad works well, adopt the following checklist:
Before laying out any design elements of your ads, sketch out your ideas FIRST.
Use complementary or contrasting colours.
Make sure the image is harmonious with your brand.
Pick the right fonts – if it's possible avoid handwritten type fonts which are hard to read.
Add text and a Call To Action (CTA) to your image.
In conclusion, before your copy can persuade an audience to buy your product, your design must convince them to read your copy. In advertising, your design catches your audience's eye and points their attention to your copy. Then, it's your copy's job to hold it.
In addition, always remember that winning ads won't perform exceptionally forever. Keep on refreshing your creatives with something new, and occasionally test them all over again to find another potentially best-performing combination.
Ad copy should be customised to individuals on each unique customer journey. For example, add some urgency (CTA) related to seasonality, countdown ads, limited offers, or exclusive messages for the audience with abandoned carts.
Finally, why is it essential to work on the above-suggested points? Because these points will ensure that you are covering the most important questions with your ad campaigns. As mentioned above, we recommend testing different creatives to identify what works best for your business. By frequently testing new content you will also give your audience a reason to keep following your trends and brand. To summarise – get to know your market audience, study your ads, be authentic, and lastly – be consistent.
Get in touch
It's vital to remember managing your Facebook advertising campaigns is much easier when you have an in-house marketing team or can collaborate with a full-service digital agency to support your goals.
At MGWW, we have an experienced team of dedicated specialists working on Facebook business advertising. Their aim with every Facebook campaign is to consider each product and service our clients offer on a case-by-case basis. Our team of specialists work with different tools and platforms to monitor and manage their work, to ensure our results meet the client's set goals.
If you would like to learn more about our operations and services, feel free to reach out and contact us!
The Memorable Marketing by MediaGroup podcast series interviews leading senior marketers worldwide on all things marketing, campaigns, strategy, building awareness and everything that makes a brand successful.
Join the conversation by leaving your thoughts and questions, and we will be happy to chat with you. If you want to discuss your business marketing strategies in more detail or join our podcast as a guest, please reach out to us at: [email protected]
Latest Insights
Interview
Our agency partner Bart Burggraaf interviewed Dr. Augustine Fou, a cybersecurity and ad fraud researcher and industry thought leader.
Hosted by Bart Burggraaf
Quarterly marketing insights in our newsletter
We are committed to helping you get the best results in your digital marketing game. Our experts will give you actionable insights and knowledge, based on our experience, to tackle the biggest marketing challenges. Unsubscribe at any time.
Mediagroup Worldwide processes the above information in order to subscribe you to the newsletter. Privacy Policy