There's no doubt that podcasting has been booming – it is sure to stay. This is partially due to its convenience – podcasts can be listened to anytime and anywhere, even when someone is multitasking, especially in a professional environment. Moreover, listening to podcasts can help marketers who want to learn new skills, stay up to date with rapidly evolving trends, or get inspired by creative strategies. As most of them are free, this is an incredibly cost-effective alternative compared to taking a course.
According to statistics, there will be an estimated 424 million global podcast listeners in 2022, with numbers expected to surpass 500 million by 2024. The global podcast industry is expected to reach $605 billion in 2027.
Some popular podcast genres include comedy, music, arts, news, history, health and fitness, as well as true crime. Most audiences usually find and listen to podcasts on platforms such as Spotify, SoundCloud, YouTube, and Apple Podcasts.
What are marketing podcasts
With podcasting set to keep on growing, this medium has become a fantastic method to get a brand out there. As such, it's no surprise that many industries have started launching their own podcasts.
Marketing podcasts mainly discuss topics related to news and updates, trends, strategies and tactics, opinions, as well as innovations that are all related to marketing and digital marketing. As you can imagine, this subject covers a lot of ground.
Podcasts are also a great way for any marketer to keep up with the time, especially when things are rapidly evolving in the digital sphere. These insights allow marketers to be competitive, as well as improve their skills and strategy. Entrepreneurs or those looking to upskill themselves can also turn to marketing podcasts to learn more. With marketing tools and trends changing so quickly, those who do not keep up to date often find themselves being left behind.
How to choose a marketing podcast to listen to
It can be slightly daunting for those dipping their toes into marketing podcasts for the first time as there are so many choices to pick from. Too many options can lead to decision fatigue, which is when you are so overwhelmed it stops you from making additional decisions. To avoid this and pick a podcast most suited to your needs, here are a few things to think about:
Do the subject and content align with your goals? What do you want to get out of listening to the podcast? Do you want to keep up to date with new marketing trends? Or do you want to listen to insights from fellow marketers? For the latter, an interview-style podcast would be of more use to you. If you want to learn more about certain marketing strategies or tactics, try choosing a more niche podcast with case study examples.
What is your preferred format of episodes? Podcasts usually only have audio, but some do come in video formats, like those published on YouTube. If you're interested in seeing a host's body language, video podcasts might suit your style better. If you want something more accessible, try looking for podcasts that also come with transcripts, as they can be easier to follow. Also, if you're often busy, shorter podcasts might be better, versus hour-long ones.
Are the hosts and content engaging? Arguably one of the most important criteria – if you don't find the host or topic engaging, then you're not going to enjoy the podcast, let alone remember its content. Make sure the topic is something you're genuinely interested in, and if you find the first few minutes of the podcast to be boring, pick something else instead of forcing yourself to listen all the way through.
Great Marketing Podcast to listen to
With all that said, we've compiled a few recommendations for you to check out, in no particular order.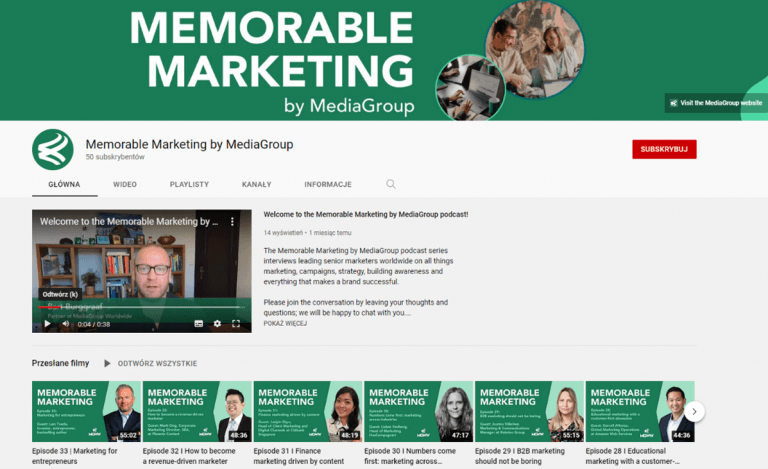 The Memorable Marketing podcast series by MediaGroup focuses on interviewing leading senior marketers from all over the world. Topics mainly include all things related to marketing, campaigns, and strategies, as well as tackling how to build brand awareness and success. You can listen to it on Apple Podcasts, Spotify, and YouTube. Most episodes last around 45 minutes to an hour, with their YouTube videos including timestamps in case you want to jump to different topics quickly.
Top episodes include episode 21, where Memorable Marketing interviews Lars Seier Christensen, the founder of Saxo Bank, and discusses blockchain technologies and brokerage marketing. Episode 29, another hit, invites Joanna Viileinen, Marketing and Communications Manager at Rototec Group, to discuss the challenges regarding B2B marketing and working in niche sectors.
Hosted by Neil Patel and Eric Siu – co-founder of NP Digital and CEO of marketing agency Single Grain – respectively, Marketing School is a daily podcast that talks about everything relating to marketing. Each episode lasts around six minutes, making it easily digestible and understandable. Their podcasts are often timely and relevant, with a recent one talking about NFTS and how it relates to marketing. So, for those who are looking to stay on trend, this is the one for you.
You can listen to these podcasts through their website, or on Spotify, SoundCloud, Apple Podcasts, as well as Stitcher.
Hosted by Amy Porterfield, this digital marketing podcast is mainly geared toward small business owners and talks about entrepreneurship, building your brand, and how to market yourself. As someone who has quit the 9-5 and started her own business, she knows exactly what she's talking about.
The topics discussed can range from professional (revolving around business, PR, marketing, and social media), to casual (revolving around mindset, mental health, stress, and productivity). Episodes last around 40-90 minutes, and they are often a mix of interviews, personal insights, and behind-the-scenes. Each episode also includes resources and links for further reading.
Produced and hosted by award-winning author and CEO of Target Internet Daniel Rowles, as well as digital marketing specialist Ciaran Rogers, this advert-free and weekly podcast has listeners in over 190 countries. It has been around for over a decade and often features well-known guests including SparkToro's Rand Fishkin and Raven Tools' Jon Henshaw. Other topics the podcast discusses involve the latest news, strategies, tools and techniques that can help boost your digital marketing campaigns.
You can listen to these episodes through their website, Spotify, Apple Podcasts, Google Play, SoundCloud or even Stitcher. Each episode tends to come with useful links that act as further reading or extra resources for listeners.
Hosted by the former Chief Marketing Officer of Procter & Gamble, Jim Stengel aims to have intimate conversations with other CMOs in the industry. Unlike other podcasts, The CMO Podcast mainly revolves around discussing how big brands approach digital marketing or do promotion. It also highlights the thought processes and motivations of other CMOs. It is important to remember that episodes tend to look at the big picture, rather than give actionable tips on how to improve digital marketing strategies.
Some interesting guests the podcast has interviewed include Ukonwa Ojo from Amazon Prime Video & Studios, Lorraine Twohill & Marvin Chow from Google, Alice Milligan from Morgan Stanley, in addition to Melissa Selcher from LinkedIn, to name a few.
For those looking for something a little different, the Everyone Hates Marketers podcast might be a suitable choice. From its name, listeners can tell it aims to put a unique spin on conventional topics. Hosted by Louis Grenier, this weekly podcast interviews industry guests, gives personal insights and views around marketing, as well as shares current events. This podcast is fantastic for people who want to learn more about digital marketing while keeping it real without being sleazy.
The episodes last anywhere between 30-90 minutes and can be found on the website, Spotify, and Apple Podcasts.
A member of the HubSpot Podcast network, the MarTech Podcast is produced and hosted by Benjamin Shapiro, the founder of benjshap LLC. The podcast tells the stories of word-class marketers – how they started their careers and what challenges they are facing in their current roles. The podcast keeps real-world experience at the forefront, by highlighting the success and pitfalls of the industry, as well as any tools and tricks marketers have learned along their journey.
The podcast was launched in March 2018 and aims for listeners to continue a path of lifelong learning. Most episodes also include timestamps and notes that make it easier for listeners to follow along and understand key points.
Benefits of podcasts
There are a few advantages when it comes to listening to podcasts. Here are some of them listed below:
Convenience: One of the greatest advantages of listening to podcasts is that they are incredibly convenient. So long as you have a phone and earplugs, you can listen to them anywhere. This includes when commuting, researching, strategizing campaigns, or working on tasks. Podcasts are also terrific at livening things up and can even motivate you to work better and faster.
Time efficient: Similar to above, listening to podcasts is an excellent means to make use of little pockets of time to entertain or educate yourself. We only have so many hours in a day, most of which will be spent commuting, working, dealing with clients, or executing and monitoring campaigns. If you are looking to upskill yourself but are too busy, listening to educational podcasts can be a wonderful and efficient alternative instead.
Informal: When it comes to learning new things, the manner it is presented to you matters. With unfamiliar topics, formally presenting them usually leads to less engagement and understanding. On the other hand, conveying information casually and conversationally can help simplify topics, making it easier to remember and recall. It also gives the impression that you are talking to a friend, rather than being lectured to.

Head of Agency Operations
Magda joined the agency in 2014. She started as PPC & Social Manager, went through all departments, and now oversees all the work smoothly across our various teams.
Magda has worked in Digital Marketing since 2010. Before MediaGroup, she worked with a NY-based advertising agency with offices in Krakow, PL. Magda holds an MA in management and a BA in cultural studies, both from Jagiellonian University.
The Memorable Marketing by MediaGroup podcast series interviews leading senior marketers worldwide on all things marketing, campaigns, strategy, building awareness and everything that makes a brand successful.
Join the conversation by leaving your thoughts and questions, and we will be happy to chat with you. If you want to discuss your business marketing strategies in more detail or join our podcast as a guest, please reach out to us at: [email protected]
Latest Insights
Article
According to Google, Performance Max (PMax) is an automated and goal-based campaign that lets advertisers access all their Google Ads inventory from a single campaign. Introduced at Google Marketing Live in 2021, its primary objective is to generate leads, in addition to driving online sales and in-store visits without using the Google Merchant Center product feed.
Written by Natalie Ng
Quarterly marketing insights in our newsletter
We are committed to helping you get the best results in your digital marketing game. Our experts will give you actionable insights and knowledge, based on our experience, to tackle the biggest marketing challenges. Unsubscribe at any time.
Mediagroup Worldwide processes the above information in order to subscribe you to the newsletter. Privacy Policy