Google is the king of search. If you have a business or website, you understand your rankings on Google can make or break your business. The majority of people who use the internet as their primary source for information begin with Google as their first search engine. YouTube follows closely, being the second largest search engine in existence. It's essential to have an active presence on YouTube with high-quality and optimised videos.
The evolution of YouTube as a search engine
YouTube is constantly evolving. From being an amateur and add-free social video sharing platform to becoming one of the fastest-growing advertising mediums in a few short years. What worked for your brand on YT yesterday might not necessarily still work today.
The use of video content can provide an SEO boost for your website on search engines too. The more good-quality links point back to you, the better chance it has of ranking in search engine results pages (SERPs). If implemented correctly and with high-quality videos at their core, YouTube channels could capture a much larger audience for your website while creating brand awareness and trust.
Although the idea of producing videos might seem like a "nice" one, it is essential to remember that they should work in tandem with your overall SEO strategy and generate a return on investment (ROI).
The popularity of video marketing is increasing by the day, with the right content being longer-form tutorials and conversations suited to chaptering. A recent Cisco report predicted that up to 80% of all website traffic would soon originate from video marketing.
"Top-level indicators include the projected increase in Internet users—from 3.3 to 4.6 billion or 58 percent of the global population, and more video viewing—from 73 percent to 82 percent of total IP traffic. Over the forecast period, global IP traffic is expected to increase three-fold, reaching an annual run rate of 3.3 zettabytes by 2021"—Cisco.
Getting the most out of your YT videos for engagement and click-throughs means knowing not only the YT algorithms by heart but also how Google deals with video content.
Considering the potential YT offers your business, it is well worth the time and effort to apply a proactive and high-quality SEO strategy to increase user visibility. If you apply all their algorithmic requirements while also pleasing the Google crawlers, you can quickly count YT under one of your top traffic-driving tools in your SEO strategy.
YouTube viewers consume more than 4 billion hours of watch time monthly. So, I believe it's fair to say that if your company needs more exposure and top positions on the SERPs, high quality and optimised YT videos is a way in. As long as your optimisation is on point, very little can deter you from those prised positions.
Forecasts by Statista project YT growth to hit almost 3 billion users by 2025. If optimised correctly, it's not only the 2.3 billion current YouTubers globally that visit YT monthly you can potentially engage with. Good quality YT optimisation strategies can also help you land higher spots on the Google SERPs.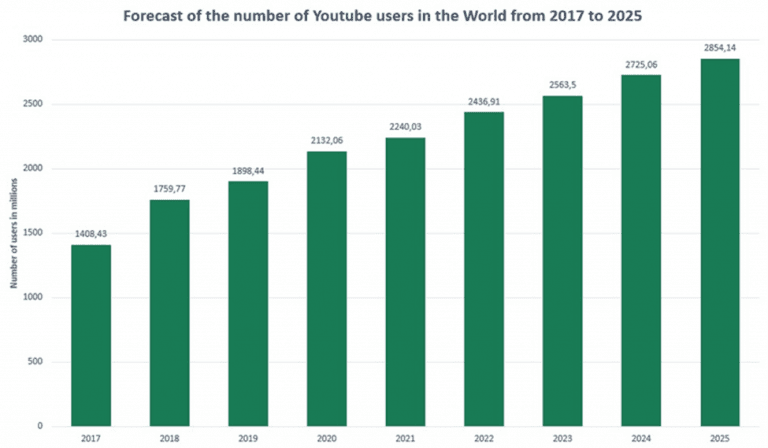 How does YT measure your content?
YouTube confirmed that the most critical metric for measuring your channel's success is 'watch time'. In my opinion, focusing on the SEO steps you can take to increase watch time must be on the top of any expert marketer's list of to-dos. So, what should you focus on in YouTube optimisation strategies?
Catchy titles that are better than your competitor's
Good descriptions of your video content
Increasing watch time
Creating timestamps
Extensive keyword research
Adding keywords in your titles, descriptions, and timestamps
Link-building to enhance your video SEO strategy. Ensure you acquire hyperlinks from high quality and reputable sites to boost your ranking on search engines.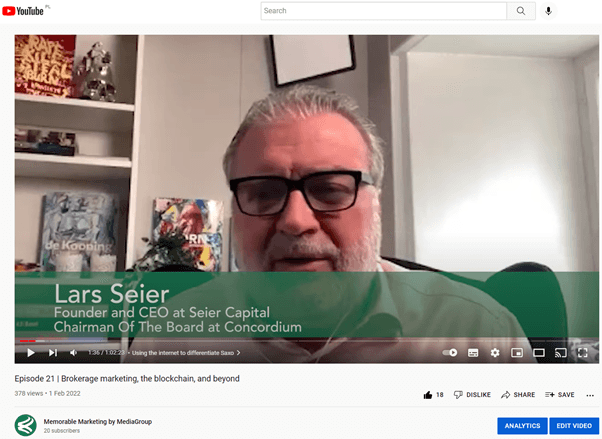 The importance of timestamps
The quickest way to optimise your videos on YouTube is by adding timestamps. Why? It only takes a few minutes of work, and you can make sure that viewers get the most out of every second in front of them when they playback one or more clips from within their library.
Here's the secret, though: Creating the best timestamps requires the best keyword research, and it must match a question that users can ask on Google. It will allow your video to show up on Google results.
Timestamps also allow you to add additional keywords, essential for categorising the video on the platform and outside of it. Additional keywords increase the possibilities for good SEO best practices to benefit your website rankings.
Ranking high on search engines is critical if you own a business with its website, blog or social media page. It holds true for YouTube as well. So let's dive into seven tips that will help you stand out from other videos and rank higher up on Google's video pages.
Keyword research
A significant determining factor of any successful SEO campaign is keyword research. If you're not utilising this process correctly, then chances are your videos won't be getting the views or exposure needed to be successful. As you can see, everyone thinks they're an expert at keyword research. However, most people fail to achieve their desired results because they don't know how to find the right target keywords for their industry or niche.
Google likes fresh content and new videos. If you keep uploading the same videos over and over again, then Google will rank your video lower or even delist it from its search engine index.
It means fewer people will find your videos when searching for relevant topics surrounding whatever it is you do professionally. By finding the right keywords, you are better equipped with the tools necessary to generate traffic consistently. With YouTube taking up second place as one of Google's top 10 search engines, it is not wise to run your SEO campaign without including YouTube.
Optimise your titles and descriptions
If you're consistently uploading new content, then chances are you will rank higher than if you were only uploading once every couple of months. However, this tip still holds true if you don't regularly upload just because more people will be able to find your video when browsing through Google's search results.
If you can work in your keywords into both the title and the description of the video, then chances are you will have a greater chance at ranking highly within Google's search engine.
Use proper tags for your videos
To rank higher on YouTube, we recommend using their official tag suggestions. Many groups create tags that include synonyms and alternative words to help optimise videos for better SEO.
For example, if you were shooting a cooking vlog, it is recommended to use "cooking" instead of "food." You can also use more generic tags like animals or music and food when uploading similar animal-based cooking videos. If people search for a dog food recipe, they're probably not looking for a tutorial on making a cheesy lasagna.
Alternative video hosting sites
As mentioned in tip number one, people who upload the same video over and over again will have a more challenging time ranking higher within Google's search results. However, there are alternative ways of ranking competitive videos through other third-party video hosting sites. In business, you usually can't afford to waste valuable employees' time doing mundane tasks when it could be done by an automated robot or software application.
Keeping this in mind, I would recommend uploading your videos to multiple video hosting sites aside from YouTube, such as DailyMotion and Vimeo.
Vimeo and DailyMotion are great alternatives to YouTube. Aside from these sites sharing quality videos, uploading your content onto these alternative video hosting sites will increase your rankings on SERPs.
Don't neglect micro-video sites
Micro-video sites like Vine, Instagram and Snapchat play a vital role in maintaining SEO for YouTube channels. Promoting your videos across multiple platforms is essential to ensure maximum exposure of your video and its corresponding link (YouTube).
This is where using hashtags come into play! Utilising hashtags increases brand recognition when people share your videos on social media feeds. If you have yet to establish yourself as an influencer or YouTube celebrity, it is recommended to use relevant and local hashtags. It will help you gain exposure within your targeted community.
Encourage online shares
If you are using a third-party video hosting site, there should be no reason viewers can't share your videos across social media platforms, including Twitter and Facebook. Aside from the fact that more people get exposed to your content, sharing on social media can also attract new viewers to like and subscribe to your channel.
If you haven't noticed, YouTube ranks higher than other popular video hosting sites such as DailyMotion or Vimeo in Google's search results! It doesn't make sense since people spend most of their time on social media sites compared to viewing videos on YouTube.
Check analytics before promoting
You can't get people to watch your videos if they don't even know they exist. That is why it is essential to check your analytics before making any call-to-action requests. If you just uploaded a new video and it only has five views, then subscribing to your channel won't honestly do anything for your SEO since most of those people probably aren't going to subscribe anyway!
Searching through the data collected from your analytics will help you determine what types of content or topics are trending among different demographics. It is a great way to determine your video content strategy for the future.
Use annotations at the end of the video
An excellent way to promote and increase the chance of people subscribing to your channel is to include annotations at the end of your video.
YouTube ranks videos higher based on total watch time, but if people don't click on your annotations (directing them to subscribe), you might lose these valuable views! Click-through rates are everything in business, which will separate great YouTubers from good ones.
To get the most out of YouTube, you must know and understand its algorithms and make sure you optimise your video content accordingly. It is well known that approximately 70% of all views under each video come directly from YT algorithmic recommendations and only 30% from external sources — including organic Google search queries.
Video content: one medium, many channels
The use of video content can provide an SEO boost for your website on search engines in a few quick and very affordable steps. The more links that point back to you, the better chance your site has of ranking in search engine results pages (SERPs). Suppose your video content strategy is implemented correctly and has high-quality videos at its core. In that case, you will capture a much larger audience for your website while creating brand awareness and trust.
Good quality video optimisation strategies can also help you land higher spots on the Google SERPs, shared on Facebook, and uploaded to LI—where your target audience gathers daily to discuss and share industry-specific headlines. You can use the same content to create podcasts for various platforms developed explicitly for that.
Although YT is showing significant growth, YOY, FB and LI still reign in terms of effectiveness for content distribution reaching your target audience. If your video content ticks all the boxes in terms of quality and user engagement, all those clicks lead straight to your site, where you can gently guide them further down the marketing funnel.
In a recent study compiled by the SEMrush team, the top three most efficient content marketing strategies executed in 2021 was listed as follow:
Search engine optimisation – 75%
Repurposing existing content – 61%
Creating more video content – 41%
Looking at the above stats, the fastest way to join the growing video content craze globally is to optimise existing blogs or pages on your site and create videos to accompany them on your website. You can then optimise the video for YT, LI and FB, while they all point back to your site.
It's a wrap
So, in a nutshell, to generate better results for your website with video content, an essential factor is to know how the relevant algorithms work and which actions you need to implement for better results. To optimise your video content for optimal exposure and potential ranking on both YT and Google, you must implement an intelligent and combined SEO strategy to please both their algorithmic preferences. Implementing such a strategy will boost your video content on the YT platform and the SERPs.
If you want to plan a well-optimised video content strategy, feel free to contact our SEO team of experts, and we'll be happy to discuss solutions with you.
Head of SEO
Kyle works as a Head of SEO at MediaGroup. Based in Scotland, he has extensive experience in SEO and digital marketing on both the client and agency side, having held key roles in advertising, B2B and other companies. Kyle's deep knowledge of SEO, web development, content marketing and data analytics is invaluable in managing complex strategies for our enterprise clients.

The Memorable Marketing by MediaGroup podcast series interviews leading senior marketers worldwide on all things marketing, campaigns, strategy, building awareness and everything that makes a brand successful.
Join the conversation by leaving your thoughts and questions, and we will be happy to chat with you. If you want to discuss your business marketing strategies in more detail or join our podcast as a guest, please reach out to us at: [email protected]
Latest Insights
Article
In the past couple of years, Google has been putting more and more emphasis on mobile SEO. The search engine prioritises websites with fast load times, so if your site is slow, to begin with, chances are it will be a less appealing candidate for ranking high in a mobile SERP.
Written by Kyle Davies
Quarterly marketing insights in our newsletter
We are committed to helping you get the best results in your digital marketing game. Our experts will give you actionable insights and knowledge, based on our experience, to tackle the biggest marketing challenges. Unsubscribe at any time.
Mediagroup Worldwide processes the above information in order to subscribe you to the newsletter. Privacy Policy