Negative SEO is the malicious malpractice of attacking a competitor's good standing with their audience and their hard-earned spot on the SERP. It is precisely what it says—the opposite of high-quality SEO obtained via Global SEO Services following good practices.
Positive SEO under this broader view is any tactic performed to positively impact rankings for a URL by manipulating a variable within the links, content, or user signals areas.
A negative SEO attack is any tactic performed to negatively impact rankings for a URL by manipulating a variable within the links, content, or user signal buckets.
It can be a significant threat in the super-competitive digital marketing industry, where honest SEOs and marketers work hard to get their client's websites to perform optimally consistently.
WHERE DID NEGATIVE SEO ATTACKS ORIGINATE?
Google has always done its best to single out unnatural and low-quality links when considering web page authority. But, website owners ignored spammy links early on as they did not pose a real threat to websites.
The final blow came with Google's Penguin update in April 2012. It enabled Google to take decisive and punitive action against websites with spammy and manipulative links. But, as soon as some opportunistic SEOs saw a gap, they took advantage of this 'weak link' (pardon the pun) in the system and used these bad backlinks as an attack against competitor's sites.
That was the beginning of negative SEO as we know it.
It might seem ironic that the very means invented to improve the quality of websites can also wreak havoc in unethical hands. But it remains your best ally to detect any form of hostile SEO attack on your URLs as an unnatural and quick drop in traffic will be your first warning sign to check for it.
Dive into this topic with us as we answer these pressing questions:
What is negative SEO?
How does negative SEO work?
What types of negative SEO attacks to look out for?
Is negative SEO illegal?
How to prevent negative SEO?
How to stop negative SEO attacks?
WHAT IS NEGATIVE SEO?
It could be time to ask yourself: "what is negative SEO" if your website rankings suddenly dived for no apparent or foreseen reason.
"The deliberate act of sabotaging a victim's website by using, and falsely attributing to the victim, certain SEO methods that are banned by Google's guidelines – with the aim of either negatively affecting the victim's Google search rankings or achieving the site's complete removal from Google's index."—Rebootonline.com
Negative SEO presents itself in various malicious practices aimed at sabotaging the search rankings of a competitor's website. It is best described as "black hat SEO" due to its malevolent nature. It is considered highly unethical, and marketers should steer away from requests to action any black hat tactics.
HOW DOES NEGATIVE SEO WORK?
In a nutshell, negative SEO tactics is any action taken with the explicit intent to harm a website's rankings. Considering all the various practices linked to negative SEO tactics, it can include attacks directly aimed at toppling well-ranking sites of the SERPs or a cyberattack by hacking that'll also impact the SEO negatively.
Using negative SEO techniques is a rabbit hole where you won't end up as the happy Mad Hatter in Wonderland—but in warm water with Google. Black hat SEO is against Google's Webmaster Guidelines. So, while it's not breaking the law, perse, it is still breaking the rules of the Search Engine that dominates global online search.

Unfortunately, it's big business, and spammers openly advertise their services on Reddit and other web platforms. For example, GSA SER (GSA Search Engine Ranker) is a tool specifically developed to automate spammy links.
WHAT TYPES OF NEGATIVE SEO ATTACKS TO LOOK FOR?
Publishing fake reviews
Cloning content
Creating toxic (spammy) backlinks
Submitting fake link removal requests
Hacking
#1 PUBLISHING FAKE REVIEWS
It is one of the most straightforward negative SEO techniques for a competitor to undermine a website's reputation and trust among users. Although it can be viewed as an indirect means, it can lead to a drop in organic traffic as user's trust in the brand or product diminishes.
Here is an example of what such negative SEO tactics can look like:
"A couple of customers mentioned that the competition told them to search comments related to our service on google, and they found that action fishy by the fact that most reviews are real and positive (some even post pictures and videos of their great experience). But some of them are bad (and I mean angry bad with caps and everything to attract attention, but again we can see they're fake because the accounts are new, and comments are negative just pointed to us with no more activity). We have tried to talk with the different websites, but they won't take down those reviews even though it's obvious what's happening here. The thing is, we had an issue with one of these businesses, and we feel they are leaving those reviews as retaliation."—Google Search Console Help Centre.
#2 CLONING CONTENT
Such negative SEO tactics are done by scraping a website's content and then duplicating it in part or whole. The cloned pages are hot-linked and spread across the web.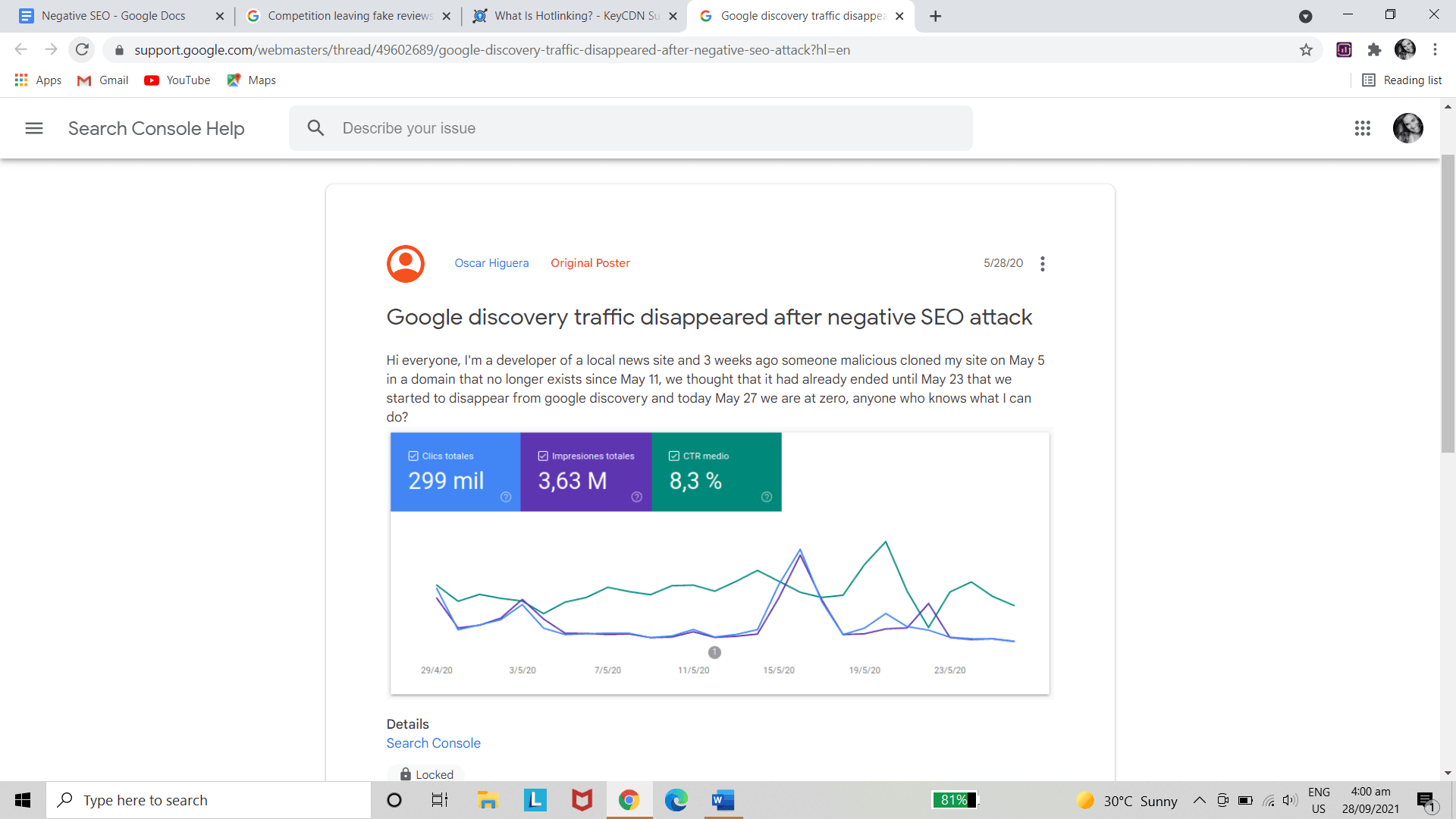 #3 CREATING TOXIC (SPAMMY) BACKLINKS
Building toxic and spammy links is another easy and cheap shot at a competitor's website that is unfortunately too easy to action. It is one of the most unsophisticated negative SEO tactics to deploy as sites sell low-quality links at scale for next to nothing. Some black hat SEO sites (link farms) sell millions of backlinks in bundles for as little as 1,000 EURO.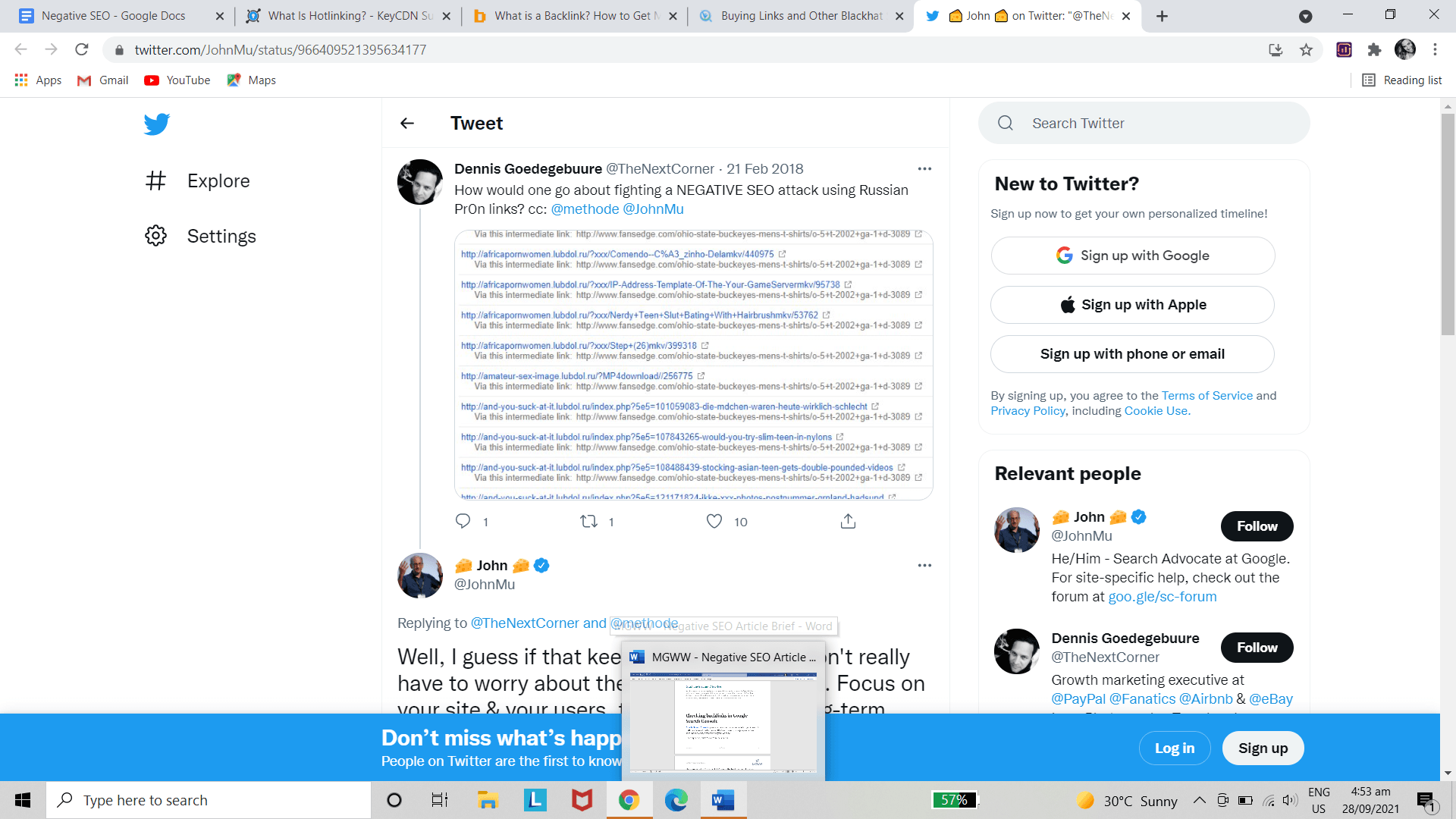 #4 SUBMITTING FAKE LINK REMOVAL REQUESTS
Honest and hard-working SEO specialists know the time and resources to build high-quality backlinks that comply with Google's Webmaster Guidelines. Building relationships with influencers and niche bloggers to obtain valuable and relevant backlinks for sites is a long-term strategy with excellent results.
Unfortunately, one of the negative SEO tactics involves submitting fake link removal requests to web admins, which can take much time to notice and can sometimes be impossible to re-implement. The attacker pretends to be the site owner, or its agency, acting on their behalf. Such negative SEO techniques are used to target backlink profiles trying to harm the SERP positions.
#5 HACKING
It is the most expensive but also the most effective form of negative SEO techniques used. It lets the hacker undermine and manipulate a site's SEO performance—especially if it causes a lack of search engine visibility.
Another dangerous threat has recently emerged and been dubbed the 'cross-site canonical attack' by Bill Hartzler, who first identified it.
"What makes this exploit especially bad is that it is virtually impossible to detect the attacker. There is no way to recover if the attacking website is unknown. So far, Google is remaining silent on how they intend to close this exploit in how Google ranks and de-ranks web pages. It is noteworthy that this exploit has been observed but not tested and verified. If this exploit is real, it has the potential to disrupt Google's search results in a major way."—Search Engine Land.
IS NEGATIVE SEO ILLEGAL?
It depends on how ethical the path a digital marketer follows to determine whether they'll be held accountable for black hat SEO practices by search engines and, later, by law agencies.
Our reason for stating this is that there are more practices than what we've discussed so far through which site owners also practice unethical negative SEO techniques—knowingly or unknowingly. We discuss these shortly.
Adam Taylor, a well-known Internet Lawyer from the UK, says:
"This question is a tricky one, as negative SEO is not a specific criminal offence as such. However, it is possible that, in future, the police may attempt to prosecute negative SEO under section 3 of the Computer Misuse Act 1990. This section, which applies to "distributed denial of service attacks", involves any unauthorised act concerning a computer intended to impair the operation of computers or programs or to prevent or hinder access to programs or data held in any computer. The perpetrator needn't have any computer, program, or data in mind. So, while far from straightforward, we could at least argue that negative SEO involves unauthorised acts (e.g., creation of "spammy backlinks") intended to prevent or hinder access to an important piece of data held in Google's computers, namely the victim's website listing in Google."—Rebootonline.com
HOW TO PREVENT NEGATIVE SEO ON YOUR SITE?
The flipside to negative SEO techniques used as an attack is when a site owner applies black hat tactics on their page in the hope of pulling the wool over the search engines virtual eyes (aka crawlers).
Let's take a quick look at self-imposed black hat tactics:
Hidden links or text
Cloaking
Keyword stuffing
Doorway pages
Content automation
Sneaky redirects
Even though you don't aim these harmful SEO practices at a competitor's website, Google and other search engines still regard it unethical. They will penalise your site for applying such means of trying to obtain better SERP rankings.
Avoid falling into the trap of thinking you can outsmart Google and instead focus your resources on building a solid and ethical marketing strategy with long term benefits and results.
HOW TO STOP NEGATIVE SEO ATTACKS?
#1 DETECTION
Prevention is better than cure, they say. But in this case, detection is your best weapon against long-term impacts caused by negative SEO attacks. Keep a close eye on your organic traffic through Google Analytics. A sudden sharp drop is a good indication of a Google penalty, and you must investigate the reasons immediately.
Furthermore, you must set up the Google Webmaster Tools Email Alert. Google will then alert you via email whenever you get penalised, or your site is not indexed.
#2 REPORTING
If you notice sudden drops in your traffic, it could be the result of a negative SEO campaign against your site using toxic links, a malicious hack, or spammy web results on one of your competitive keywords.
If you suspect that a malicious hack or malware has compromised your site, remove the harmful code, and request a malware review. For spammy web results, you must file a webspam report via the Google Webmaster Tools. Remember that incorrectly reporting spam is a black hat SEO practice, so make sure that you're reporting correctly to avoid penalties against your site.
If you're convinced that someone launched a hostile backlinking attack against your site, make use of the Disavow Links Tool in Google Webmaster.
#3 DISAVOWING LINKS
The Disavow Tool lets you inform Google of all the links to your website that you don't trust or consider low-quality links that can negatively influence your rankings. By disavowing such links, you merely instruct Google to omit them as ranking factors. It is an excellent way to show Google that you want to avoid spammy and cheap links and care about the quality of links to your site.
Actively using the tool will also influence the Webspam Team's decision-making process to penalise you or not if there is ever a sudden increase of low-quality links pointing to your site.
#4 ADDING ADDITIONAL SECURITY
Your first line of defence against hacks is to add multiple layers of security to your site and ensure that you have strong administrator passwords. You can also reset passwords more often to fend off potential access. If you can secure your administrator login, it helps to protect you against:
Changes to your most important files
Altered SEO properties
Modified redirects
#5 AUDIT AND REVISE YOUR SEO SETTINGS REGULARLY
Hackers aiming to launch a damaging SEO attack against your website will most likely not hijack your website entirely. They'll aim at messing with your sitemap or robots.txt without you noticing it right away. The best way to detect potential breaches is to set up notifications in GSC (Google Search Console) and fix technical issues regularly by running site audits.
FINAL THOUGHTS: FACT OR FICTION?
Although Google is geared to recognise spammy links and alert you of it, the fact that it is so easy to obtain, and launch, remains a real threat to your hard-earned spot on the SERP.
Knowing how to prevent negative SEO, or in extreme cases, stop negative SEO attacks already launched, is the first vital step. Consistently keeping your guard up might not always be possible if you don't have a full-time SEO team monitoring your site performance regularly.
At MediaGroup, our global SEO team like to stick their nose in your business to stay on top of every move your pages make on the search engines. It's what we do best. We constantly monitor website analytics using various advanced tools to stay ahead of any potential or lurking threat.
If monitoring Google Analytics is not what you need to do every day, you're welcome to contact us and discuss how to help you protect your site against negative SEO attacks by optimising it according to Google's guidelines.
SEO Content Manager
Clarissa is an SEO Content Manager at MediaGroup Worldwide. She has 1.5 years of experience working with clients in the financial and tech sectors, creating strategies and producing copy across a wide range of content types, including landing pages, educational articles, and white papers.
The Memorable Marketing by MediaGroup podcast series interviews leading senior marketers worldwide on all things marketing, campaigns, strategy, building awareness and everything that makes a brand successful.
Join the conversation by leaving your thoughts and questions, and we will be happy to chat with you. If you want to discuss your business marketing strategies in more detail or join our podcast as a guest, please reach out to us at: [email protected]
Latest Insights
Article
The struggle to gain page visibility on Search Engine Results Pages (SERPs) has never been more relevant than it is now. With billions of pages being born each day, it is hard not to feel a little overwhelmed in keeping up and staying relevant.
Written by Clarissa Siu
Quarterly marketing insights in our newsletter
We are committed to helping you get the best results in your digital marketing game. Our experts will give you actionable insights and knowledge, based on our experience, to tackle the biggest marketing challenges. Unsubscribe at any time.
Mediagroup Worldwide processes the above information in order to subscribe you to the newsletter. Privacy Policy